The Dalbello Il Moro MX 90 Ski Boots bring legendary Dalbello park performance to the wide-foot clan. Lose the pain, get the gain anyway. This is a medium-flex three piece boot born to jib and spin, but it works just fine all over the rest of the mountain as well. When that pow day hits, sometimes you just have to give the grooming crew a break and let them take a few laps, right?
Fit
Last: 103 mm – A relaxed fit that works well for wider and higher volume feet.
Adjustable Rear Cuff Spoiler – Modular rear boot cuff spoiler adapts the boot cuff to a variety of lower leg shapes. Spoiler permits skiers to increase rear cuff height, add rear support and change forward lean.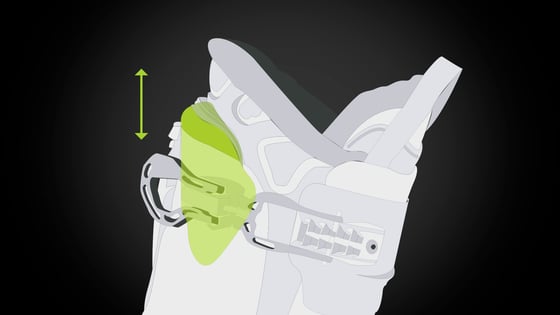 Contour 4 – Contour 4 creates subtle "comfort zones" at 4 critical fit points: ankle, heel, 5th metatarsal, & navicular. Relief contours molded into the inside lower shell at these 4 points provide a close and accurate fit and minimize the need for shell modifications.
Flex
Flex: 90 – A medium flex for athletic and progressing intermediate to advanced skiers.
Flex Control – Forward flex characteristics may be adjusted to suit skier's weight, skill level, and snow conditions.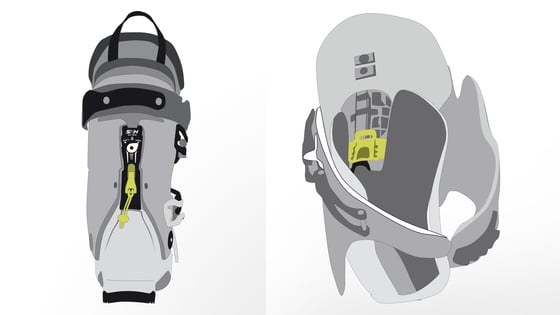 Liner
Trufit Sport Liner – TRUFIT innerboots are 100% preformed and ready for try-on and skiing right out of the box! Ultralon foam is a pressure sensitive fit material that will automatically form to the foot over time and is supportive and resilient. TruFit liners can be heat molded in 10 minutes to personalize the heel and ankle pocket if desired. The Trufit Sport's liner has a reduced volume with a high performance fit.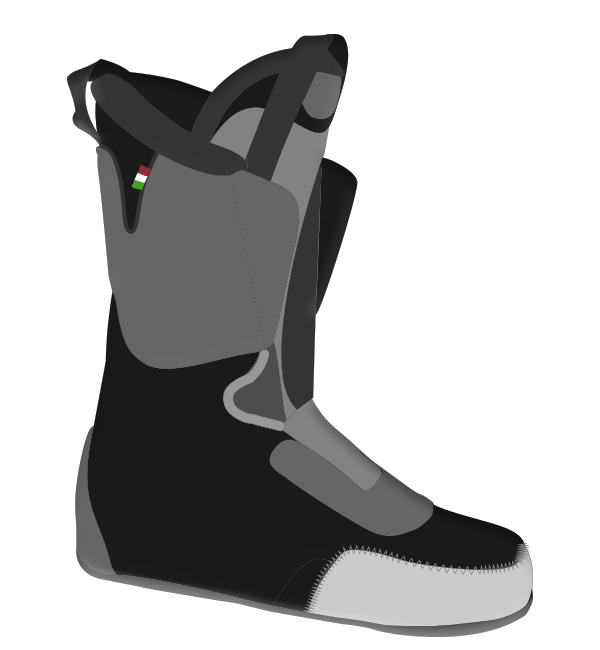 Shell Materials & Design
Cabrio Design – The Cabrio design is a 3 piece construction - shell/cuff/tongue – that comfortably secures the foot and lower leg while optimizing smooth and progressive flex. Dalbello's Cabrio models provide the ultimate in responsive performance to ski your best.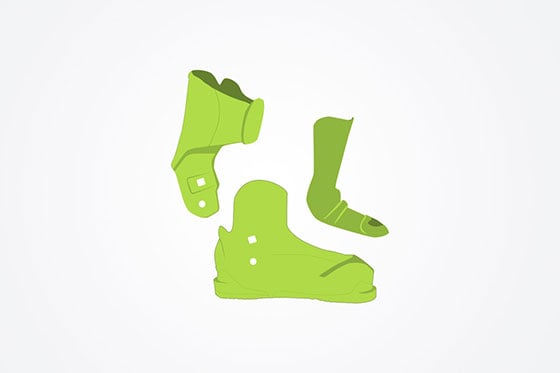 DB Hyperlite PU – With a perfect blend of ski boot techno-polymer, dbHyperlite is a lightweight performance polymer that provides superior anti-shock and vibration control characteristics.
Stance
Low Cuff Hinge Point – The low hinging cuff permits the boot cuff to more easily follow the natural anatomic movement of the skier's legs because it has a longer range of forward and rearward hinging motion. For more efficient walking and gliding. Increased power and control with less energy.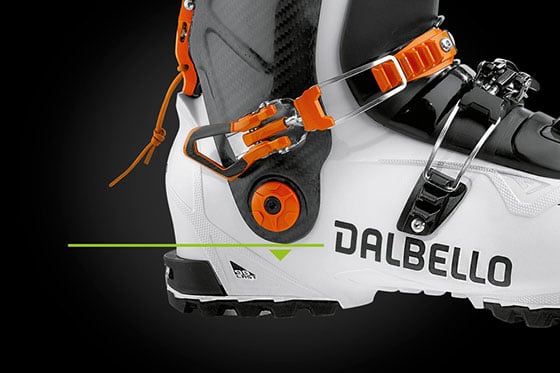 Buckles
Micro-Adjustable Aluminum Buckles – A simple turn of a buckle! Micrometer buckles are easy to use for easy fit customization.
Dynalink Heel Retention System – The instep buckle travels in a direct line to the skier's heel, allowing buckle tension to minimize heel lift and sliding.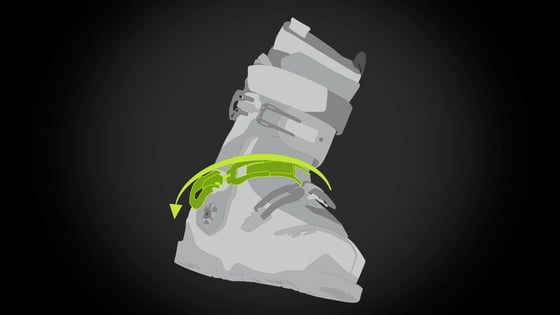 Inverted Forefoot Buckle – Forefoot closure buckles (above instep) are inverted to close on top of the bootshell, not on the side. The top closure positioning prevents buckle breakage and bending during rail slides, grinds, falls, and transitions.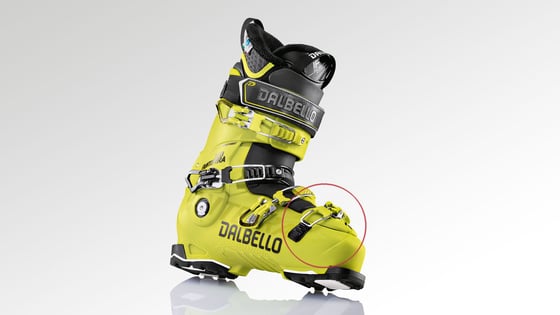 Hyperband Wide Profile Cuff – Low friction, wide profile shin pad closure securely wraps the upper part of the boot cuff with a wide profile, high leverage cuff closure buckle assembly. Smooth flexing design is highly shock absorbent for maximum boot-top comfort.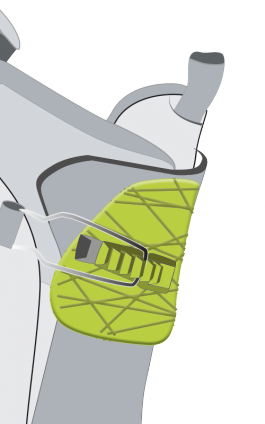 Twin Step Closure Rack – Two position forefoot closure buckle accommodates varying foot shapes and instep heights.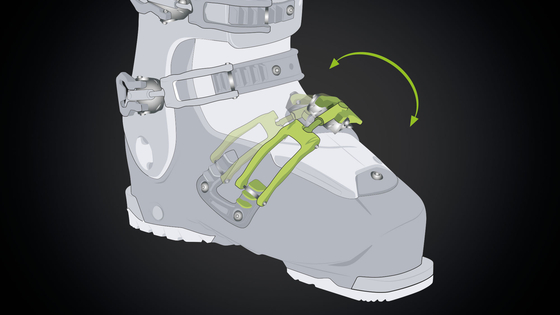 Bootboard & Footbed
Shock Absorption – Landing Gear footboard is a full length urethane platform that absorbs shock on hard snow and big landings.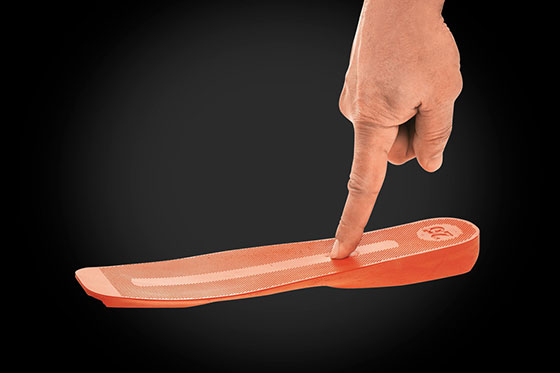 Anti Shock Heel Insert – High-density elastomeric urethane inserts under the heel absorb shock and reduce vibration.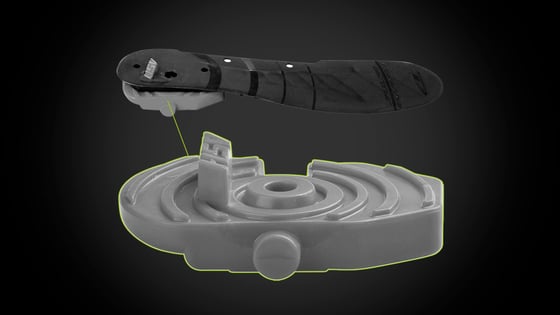 Sole
Replaceable ISO 5355 Alpine Soles
Dura-Grip Replaceable Soles – Durable high durometer polyurethane compound toes & heels for extended boot sole wear.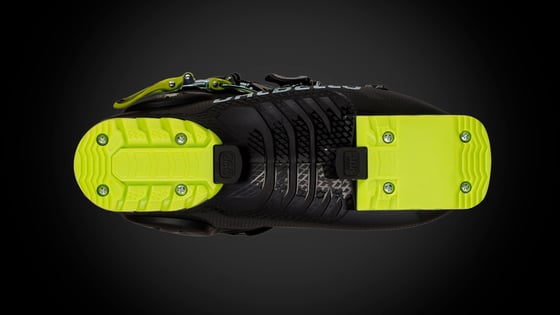 Grip Walk Soles Sold Separately
Forefoot Width:

103 mm

Liner Type:

Semi-Custom

Flex Index:

90

Boot Sole Type:

Alpine DIN (ISO 5355)

Includes Tech Fittings:

No

Number of Buckles:

3

Warranty:

2 Years
| | | | | | | |
| --- | --- | --- | --- | --- | --- | --- |
| Size | 25.5 | 26.5 | 27.5 | 28.5 | 29.5 | 30.5 |
| Indiv. Boot Weight (g) |   | 2100 |   |   |   |   |
| Boot Sole Length (BSL) (mm) | 297 | 307 | 317 | 327 | 337 | 347 |